The high performance of AI in your operation
Plan your energy operation with unparalleled horizon and accuracy using MIA-Energy
MIA Energy: our inovative product for the energy sector
Take the lead with exclusive climate impact information in the energy grid
With future climate forecasts of hydroelectric and wind power generation obtained through the MIA system, you gain a competitive advantage in the market by optimizing decision-making for your strategic planning and operations, ensuring efficiency and success in the ever-changing energy landscape.
Increase in energy demand
Change in consumption patterns
Change in energy production
Increase in energy prices
Improve your risk management in the face of climate uncertainty
Our predictions and analises are accompanied by comprehensive reports on past performances and error margin estimates, enabling an optimized assessment of your operational risks and providing valuable insights for informed decision-making.
12-month forecast of wind power anomaly compared to observations
8-month forecast of hydro power generation with uncertainty bars reflecting model's past performance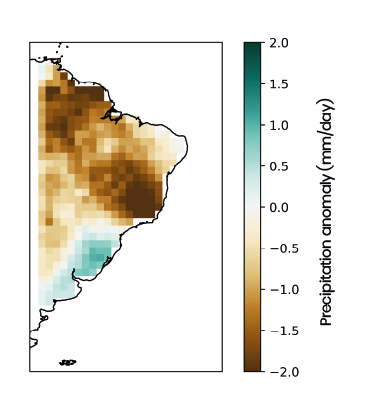 Long term rainfall and streamflow anomaly prediction in the Brazilian Energy grid watersheds
A complete climate impact overview in renewable energy generation
Experience a comprehensive climate impact overview specifically tailored to renewable energy generation through the utilization of the MIA system. Its flexible nature enables the construction of high-performance AI pipelines, accurately predicting climate and climate-sensitive variables at various spatial and temporal scales. This versatility allows for the development of innovative products that provide exhaustive information throughout the energy supply chain, empowering you to make informed decisions and optimize your renewable energy operations.
Your leading strategy
requires the right information
In the competitive energy market, staying ahead requires innovative and specific information to drive your leading strategy. Traditional products often fall short in delivering the necessary insights for energy trading and generation. That's where MIA-Energy steps in. Specifically designed for the energy market, MIA-Energy provides new and invaluable information, empowering our partners to make informed decisions, seize opportunities, and maintain a competitive edge in the evolving energy landscape.
Optimised energy generation scenarios
Our long-range predictions of precipitation, wind speed,
hydro and wind power enable tracing scenarios of energy generation with unprecedented accuracy to empower planners and decision-makers.

Our quantitative predictions
are accompanied by a complete report of past performances and error margin estimates. This enables an optimised assessment of your operational risks.
On-demand climate impact modelling
Our purely data-driven modelling approach is more flexible than traditional atmospheric models. This allows for customised models to be developed quickly to predict the weather and climate impact in all the components of the power grid.

Anticipate market movement
Our long-range predictions enable energy sector companies to anticipate the evolution of energy prices, driven both by climate factors and market demand, empowering energy traders with valuable insights for strategic decision-making.
Compare and see the differences
Specialized in long range
Complete performance reports
Stable prediction between runs
MIA configured to the user needs

Our product offers a comprehensive array of detailed and specific spatio-temporal information for the Brazilian Energy grid. Developed using cutting-edge AI-based models, our solution outperforms traditional products like the IFS from ECMWF, boasting higher accuracy and an extended predictive horizon.
Data
Raw information of rainfall, streamflow, hydroelectric and wind power up to one year ahead
Access and Visualisation
Interactive dashboard with spatio-temporal visuali All data are accessible through API and presented in an interactive dashboard
Performance analysis
A complete description of prediction performance in the last 10 years. 
Workshop and support
Continuous technical formation and support for your team through e-mail and whatsapp.
Connect to MeteoIA's climate intelligence